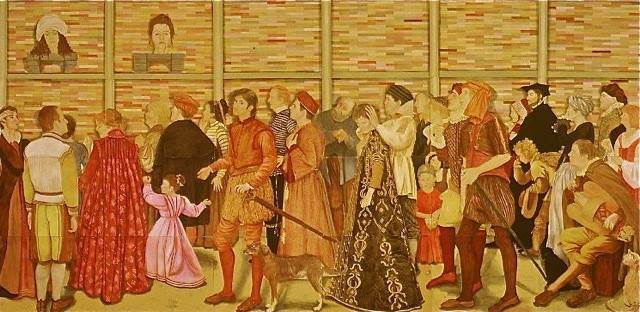 "I'll Take You There," is a concise survey of history painter Judy Jashinsky's work from 1980 to the present depicting myth makers, real and imagined, in historic and fantasy environments. In honor of Women's History Month, the exhibition unites several of the artist's series through the lens of the enduring feminine spirit and a community of friends. The exhibition takes place at the 9th & F Street location which was the site of Judy's studio - in four different spaces - for over twenty years.
Jashinsky's artistic career is noted for paintings created from an imaginary but often historically-based viewpoint of women seeking independence, or living independently, in an often brutal, masculine world. The central female character is nearly always supported by characters intrinsic to the narrative, with Jashisnky replacing historic faces with her own and those of friends and family. Inspired by Baroque Italy, ancient Greece, and Japan, works on view are from the series: Artemesia, Stations of the Cross, Fisherwoman, and more.
Jashinsky's work has been shown in numerous solo and group exhibitions, including the Smithsonian Museum of Natural History, The Corcoran Gallery of Art, The National Museum of Women in the Arts, and The Drawing Center, NY. She is represented in many collections, including the National Gallery of Art; The Art Institute of Chicago; Cranbrook Academy of Art; the Detroit Art Institute; the University of Palermo; The World Bank; Washington, DC Convention Center; and more. In 2002, she was awarded the Visual Artist Support Grant by the Samuel and Adele Golden Foundation (Ceres Project Space) in New York.
For more information or high‐resolution images, please contact Jayme McLellan
at Civilian Art Projects: jayme@civilianartprojects.com>
Curated by Jayme McLellan, Civilian Art Projects
JUDY JASHINSKY
"I'll Take You There"
Exhibition on View:
March 15 – April 19, 2016
 
Opening Reception:
Friday, March 18
6:30 to 8:30pm
 
Artist Talk & Closing Party:
Saturday, April 16 at 6pm
 
Public exhibition hours:
Wednesday and Thursday, 3:30 to 7pm,
Saturday 12 to 5pm,
and by appointment.
To make an appointment email info@civilianartprojects.com>
Civilian Art Project presents
at Caos on F
for more information: