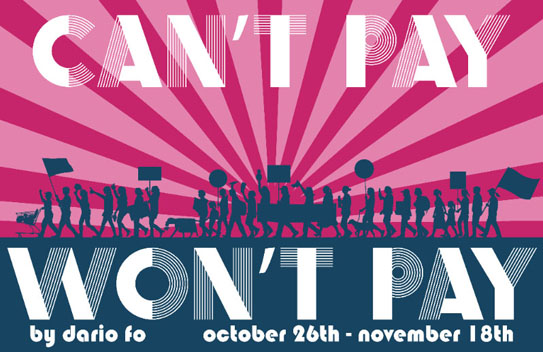 The only thing better than fun theatre is a great deal for fun theatre!
$10 Tier 1 Tickets are still available to all performances.
When those sell out, grab a $15 Tier 2 ticket.
Dynamic pricing favors the early birds, and benefits anyone who Can't Pay, Won't Pay high ticket prices (See what we did there?)
About The Play
Wage Stagnation, De-unionization, Police Overreach, and Political Turmoil. Is this 1970's Europe or 2018 America? You decide, while laughing til you cry at the exact kind of play we need right now.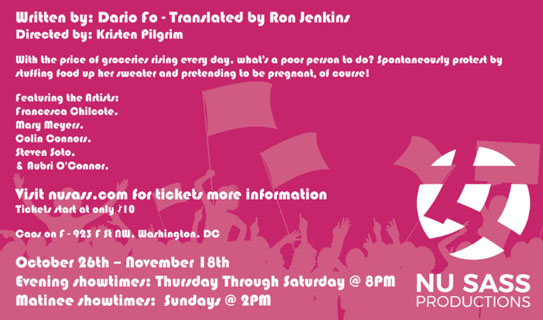 CAN'T PAY
WON'T PAY
OPENING NIGHT PARTY:
FRIDAY, OCTOBER 26TH
Shows 10/26 - 11/18
Performances Th-Sa @ 8p & Sun @2p
Pay What You Can 11/5 @ 8p and 11/13 @ 8p
By Dario Fo, Translate by Ron Jenkins
Directed by Kristen Pilgrim
Starring Francesca Chilcote, Mary Myers, Colin Connor, Steven Soto, and Aubri O'Connor
Designs by Allie Heiman, Seoyoung Kim, Xandra Weever, and Aubri O'Connor.